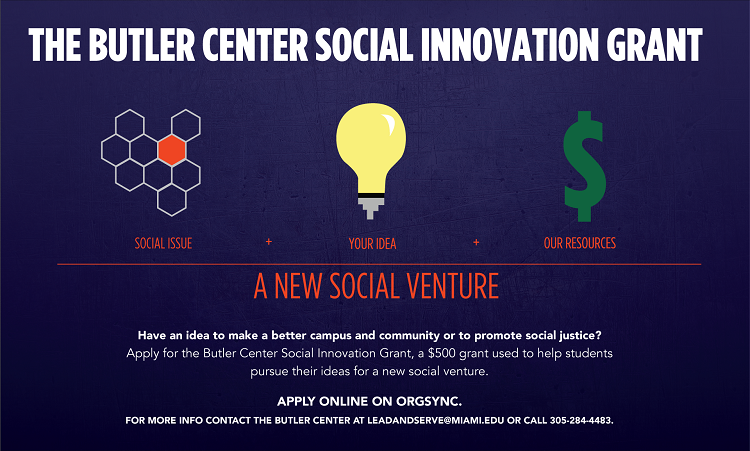 There is no shortage of ingenuity of #UMchangemakers on our campus, yet oftentimes students with new ideas do not know where to start to making their visions into realities. You may feel like you do not have the resources needed to transform your thoughts into action, but Social Innovation Grants can help bridge those gaps.
Each Fall Semester, Social Innovation Grants in the amount of $500 each are awarded to students who submit applications that meet the following criteria:
Applicants must be enrolled as University of Miami students during the period of the project.
Only volunteer projects are eligible. Any project for which participating students will receive wages, salaries, a stipend, or academic credit is not eligible for funding.
All projects must have a University of Miami faculty or staff project advisor. Peers and/or persons with no University affiliation cannot be project advisors.
Preference will be given to applicants demonstrating long-term commitment to a project.
Projects must benefit the Miami-Dade County.
To access funds, recipients will submit invoices or receipts for reimbursement, or a University donation account number. Reimbursements will be accepted one year from the date of the approved application.
Projects must be implemented and completed within one year after the funding is received.
A final report must be submitted within two weeks of project completion. The report should be limited to no more than three typed pages and should include the project name and a succinct description of the project's status. Attach a separate sheet itemizing how the Community Service Mini-Grant was used along with all receipts. The final report should address the following issues:

Achievement of the proposed goals
Description of the completed project
Impact the project had on the students involved, the sponsoring organization and the population served
All data collected to measure project success as indicated in the application
Photos of the project and participants, if possible

Examples of uses of mini-grant funds include supplies, food, transportation, etc.
All requested documentation and signatures must be included with the application for consideration by the Butler Center Student Advisory Board.

Application deadlines for the Fall Semester will be set soon. For more information about the Social Innovation Grant program, please contact the Butler Center at 305-284-4483 or leadandserve@miami.edu.