The Butler Center for Service and Leadership hosts two living and learning communities for students interested in fully immersing themselves in active citizenship. These students are a part of something that is more than just a student organization; they are part of communities that give participants the opportunity to not only serve the community but also understand why it is important to do so. Through in-depth discussions, engaging lectures and exciting tours of the city, students learn not only the value of service but also the different ways of becoming an active citizen and an effective leader of the community.
First Year U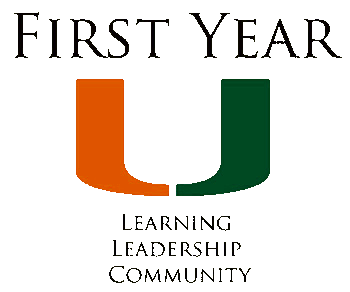 First Year U (FYU) is a leadership initiative held during the fall semester for first-year students. FYU is designed to provide these students with an opportunity to learn about leadership in non-traditional ways, make connections with UM faculty and explore the Miami community. The program is a mix of large group sessions on thematic topics and smaller cohort-based experiences in the residential areas. The discussion sessions include topics such as ethics, civic engagement, environmental sustainability, entrepreneurship and globalization. The discussions are supplemented with activities such as off-campus team building experiences and community trips. Faculty and community leaders lead the community trips, and they demonstrate to participants how their academic expertise can be translated into community leadership and advocacy for social change. All these activities are directed toward the common goal of responsible citizenship that capitalizes on translating lessons learned in the classroom to action outside of it.


STRIVE


STRIVE is a service-based living and learning community housed in Pearson Residential College with all upperclassmen members of the organization living on the same floor. STRIVE members engage directly with the community through service events planned by its members. STRIVE members also go through a leadership development program designed to help them become stronger and more effective leaders both on and off campus.