Institutional Commitment 
Since 2008, the University of Miami has continually increased its support toward civic learning and democratic engagement by building the Canes Vote Network. The majority of this work has been spearheaded by the Division of Student Affairs along with the William R. Butler Center for Volunteer Service and Leadership Development and Get Out The Vote.
The Division of Student Affairs and the Butler Center for Service and Leadership continue to provide the utmost support to the Canes Vote Network along with the Get Out The Vote, a student-led initiative on campus. Furthermore, UM continues to provide the following:
Commitment toward civic learning and democratic engagement is clearly reflected in curriculum, co-curricular program learning outcomes and the institution.
Various courses are offered which encourage civic participation and political participation among students.
Importance of being civically active in the community is stressed and encouraged in various university programming.
University of Miami Campus Action Plan 2020-2021
---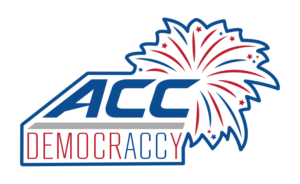 DemocrACCy Network
The University of Miami is a proud member of the ACC DemocrAACy Network. This is a network of professionals from the Athletic Coast Conference institutions to engage in conversations around best/promising practices for curricular-focused initiatives, student-focused initiatives, challenges and competitions, and encouraging campuses to develop action plans. 
---

National Study of Learning Voting, and Engagement (NSLVE)
UM utilizes data from Tufts University and the National Study of Learning, Voting and Engagement (NSLVE) Report. UM has made a commitment to implement strategic civic participation endeavors across campus by creating a coalition committed to increasing our voting rates and democratic participation by examining data from future and past general, midterm and local elections.
NSLVE Voting Data for University of Miami 
---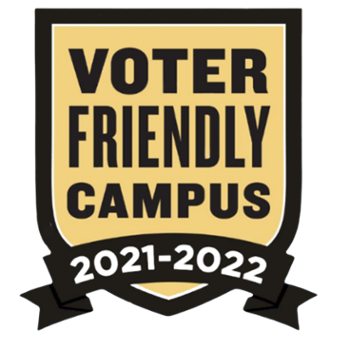 Voter Friendly Campus
UM has been designated as a Voter Friendly Campus since 2016. The Voter Friendly Campus designation program was started through the partnership of Campus Vote Project and NASPA in 2016. The goal of the program is to help institutions develop plans to coordinate administrators, faculty, and student organizations in civic and electoral engagement.
---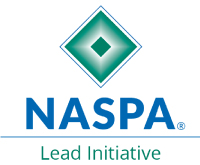 NASPA Civic Learning and Democratic Engagement Lead Institution  
NASPA's LEAD Initiative on Civic Learning and Democratic Engagement (LEAD Initiative) comprises a network of NASPA member colleges and universities committed to encouraging and highlighting the work of student affairs in making civic learning and democratic engagement a part of every student's college education. UM was an inagural member of the network and has been designated a Civic Learning and Democratic Engagement Lead Institution since 2012.
NASPA CLDE Designations 
LEAD Initiative Institution - 2012 - Present

LEAD Advisory I

nstitution - 2015 - Present

LEAD Consulting Institution - 2014
---
All In Campus 
The All IN Campus Democracy Challenge is a national awards program. By recognizing colleges and universities for their commitment to increasing student voting rates, the Challenge encourages higher education institutions to help students form the habits of active and informed citizenship, make democratic participation a core value on their campus, and cultivate generations of engaged citizens who are essential to a healthy democracy.
Gold Campus - Excellence in Voter Engagement - 70-79% Voting Rate - Presidential 2020 Election 

Silver Campus - Excellence in Voter Engagement - 30-39% Voting Rate - Midterm 2018 Election 

Presidential Commitment Signatory - 2020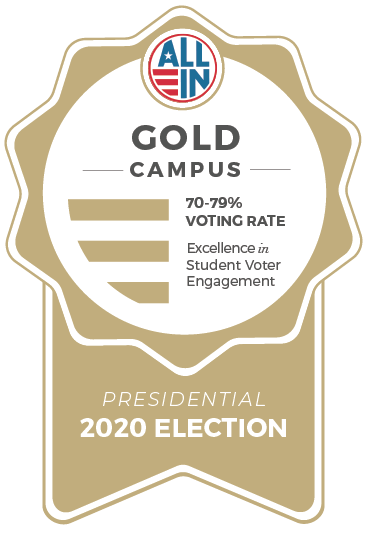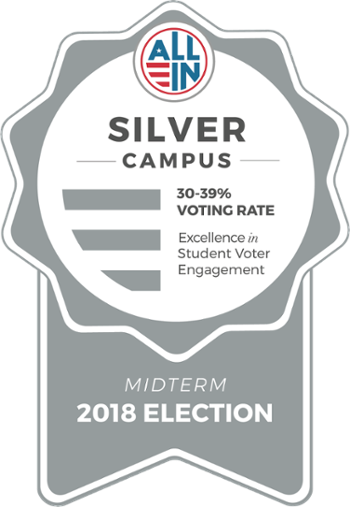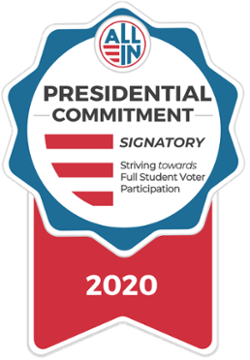 ---
Canes Vote Network Overview 
The Canes Vote Network is comprised of students, faculty, staff, administrators, and community members who are passionate about civic participation in the University of Miami community. The coalition enables the institution to connect individuals with the common purpose of increasing awareness on civic participation and to develop active voter engagement. The Canes Vote Network includes Get Out The Vote (GOTV), Schools, Colleges, and Campus Units, Student Organizations and Programs, and our Community Partners.