'Canes for a Change Week | September 9th - September 13th | UM Coral Gables Campus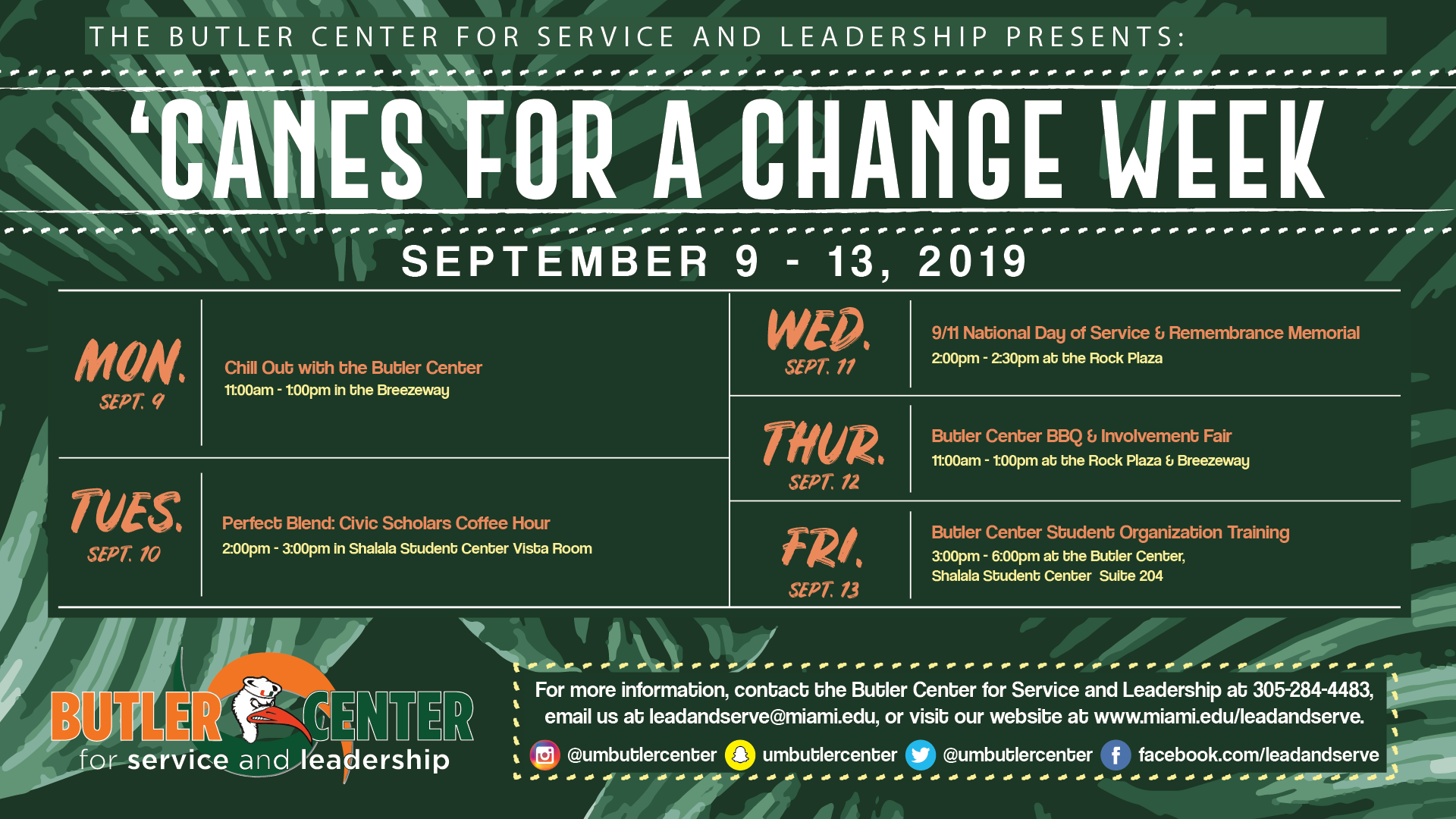 One of the most exciting times of the year for the Butler Center for Service and Leadership is 'Canes for a Change Week! Through this week-long event, you will be introduced to all of the various opportunities that you will have to engage in service and leadership experiences during your time at the U. From meeting community partners to networking with current student organization leaders to finding ways to connect service to in-class room experiences, there is something for everyone during 'Canes for a Change Week. 
Chill Out with the Butler Center | Septetmber 9th | 11:00AM-1:00PM | Breezeway
Chill Out with the Butler Center is an event that brings together Butler Center staff members to describe ways students can get invovled with in the community. This will provide students an opportunity to reflect on why service is important to them, while they learn about the programs that will be offered for the rest of the week, as well as the rest of the semester.
Perfect Blend:  Civic Scholars Coffee Hour | September 10th | 2:00PM-3:00PM | Shalala Student Center Vista Room
Learn more about combining your passions for service and your academic endeavors through participation in this Civic Scholars program. Enjoy an afternoon pick-me-up while learning more about the program from current Civic Scholars. 
National Day of Service and Remembrance 9/11 Memorial | September 11th | 2:00PM-2:30PM | Rock Plaza
Since 2002, the University of Miami has hosted a memorial service that allows the university community to reflect together and to honor those lost during the events that took place on September 11, 2001. 
Butler Center BBQ and Involvement Fair | September 12th | 11:00AM-1:00PM | Rock Plaza and Breezeway
A 'Canes for a Change Week staple, the Butler Center BBQ and Involvement Fair provides students the opportunity to learn about involvement and service opportunities from Butler Center student organizations and Community Partners. Delicious Shorty's BBQ will be served to all participants.
For more information on any of the 'Canes for a Change Week programs, contact the Butler Center at 305-284-4483 or at leadandserve@miami.edu.