'Canes for a Change Week | September 21-24, 2020
One of the most exciting times of the year for the Butler Center for Service and Leadership is 'Canes for a Change Week! Through this week-long event, you will be introduced to all of the various opportunities that you will have to engage in service and leadership experiences during your time at the U. From meeting campus partbers to networking with current student organization leaders to finding ways to connect service to in-class room experiences, there is something for everyone during 'Canes for a Change Week.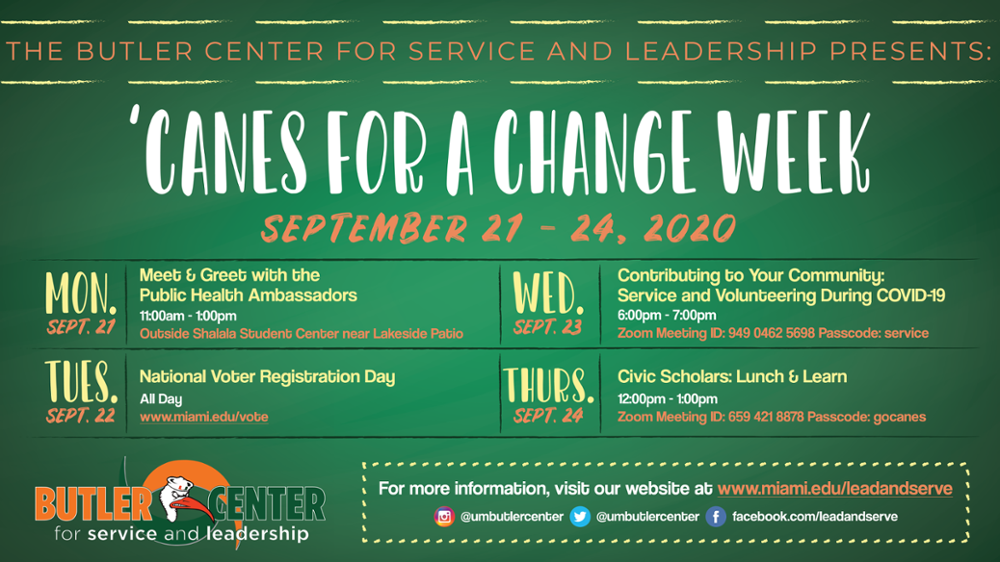 ---
Monday, Sept. 21
Meet and Greet with the Public Health Ambassadors
Outside Shalala Student Center and Near Lakeside Patio
Take a moment to meet with the university's Public Health Ambassadors. Learn more about how the ambassadors are working to enhance the COVID-19 prevention efforts on campus. Giveaways will be offered while supplies last! 
---
National Voter Registration Day
Make sure your voice is heard by registering to vote on National Voter Registration Day. Whether, you would like to register to vote in Florida or in another state, the Butler Center and Get out the Vote will be sharing resources that can help you in the process.
---
Contributing to Your Community - Service and Volunteering During COVID-19
Join the Butler Center and service-based student organizations as we discuss ways to help you get involved and engaged with community service during COVID-19. Specifically, we will be sharing resources that can help you navigate how to be a contribution to your community in these challenging times.
---
Civic Scholars Lunch & Learn
Meet us virtually for lunch as we discuss the ways in which the Civic Scholars program is a great opportunity to combine your passion with service and the value of academic scholarship. This event will provide information on how to join the prestigious program and allow you to connect with current Civic Scholars. 
---
For more information on any of the 'Canes for a Change Week programs, contact the Butler Center at 305-284-4483 or at leadandserve@miami.edu.