OrgSync is the database for all University of Miami student organizations. It also houses various campus departments and other resources. Through the Butler Center for Service and Leadership, students are able to find and keep track of volunteer opportunities both on and off campus. Go to OrgSync , log in, set up your profile and you're ready to go!
How To Find Upcoming Opportunities
The Volunteer Opportunities umbrella, maintained and coordinated by the Butler Center, is a collection of student organizations, local nonprofit organizations and campus departments that make up a fully stocked database of volunteer opportunities. The link to this can be found on the left sidebar.
These groups post volunteer opportunities through their individual OrgSync profiles. OrgSync automatically collects these opportunities into one calendar. Additionally, a list of upcoming volunteer opportunities is displayed on the right hand side of the screen under the day's weather report.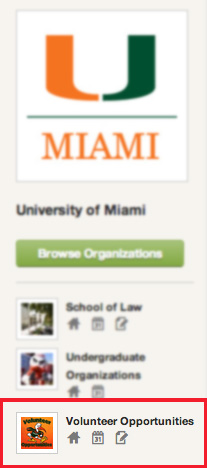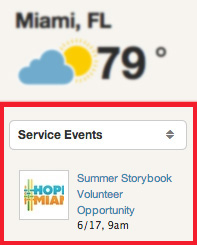 How To Find All Volunteer Opportunities
All members of our OrgSync umbrella – student organizations, local nonprofits and campus departments – have their own OrgSync profile. Through their profiles, these groups post their own volunteer opportunities. These opportunities can be found upon clicking Service Opportunities under the My Tools link. 
Hover over the My Tools link found on the top navigation bar and select Service Opportunities from the menu that appears.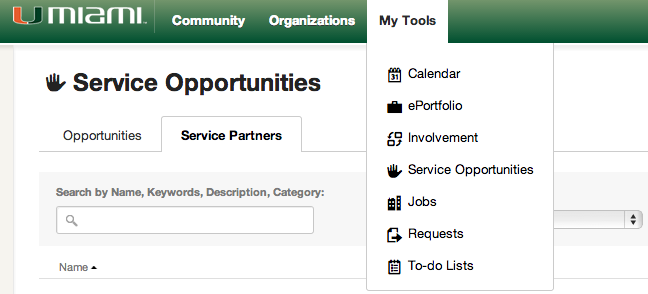 On the listing page, click the link of each opportunity for specific information about each volunteer opportunity. From there, you can join the opportunity. This process is similar to joining a Facebook event. Joining these volunteer opportunities on OrgSync is how the Butler Center will track all community service hours for UM students. For many organizations and events, signing up through OrgSync also means that you do not have to fill out an additional registration form.
How to Find
If you're looking for specific opportunities – with a specific organization, for example – OrgSync can help you sort through all the opportunities posted on their system!
To find a specific organization, click on the Service Partners tab under the Service Opportunities link. This will display a list of local nonprofits that work with the Butler Center. Select an organization to view its profile and to join the organization. This way, you can access their volunteer opportunities and will receive messages from the organization directly regarding news and upcoming events.